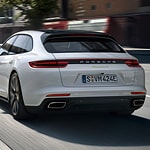 There are many reasons why we at Porsche Monterey believe your best option for enjoying the driving experience of a luxury sedan that has much of the latest technology close at hand.
The Porsche Panamera is a technologically-advanced sedan in the market with the Porsche Communication Management system making it easier for you to stay in contact with every important aspect of your life. You are placed in control of your 12-inch touchscreen to give you the chance to organize the widgets you want to place on your home screen to give you instant access to the options open to you in infotainment.
The addition of two infotainment screens to the rear means your passengers will have the power to enjoy their own entertainment choices and take control of their area of your vehicle as you drive around Seaside. The success of the Porsche Panamera means you will have the chance to enjoy the best in entertainment from the comfort of any seat in the luxury sedan.